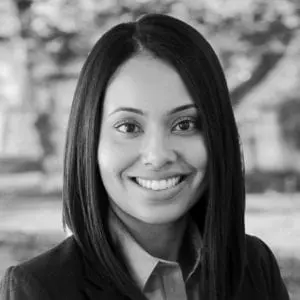 Talent Management
Fractional work makes me whole for
Exercising, cooking and focusing on wellness
Samantha Singh
Samantha Singh has worked as a Human Resources professional since 2017. She has experience in Diversity, Equity, Inclusion + Belonging (DEIB) strategy, employee engagement, organizational effectiveness, facilitation, data analytics, process development, and project management.
Samantha has specialized in DEIB engagements and HR Assessments with Inspire Human Resources since 2019. She advises clients on strategic decisions, leading through rapid growth, organizational changes and DEIB initiatives, ensuring that DEIB is integrated into business and talent strategies. Samantha acts as a strategic partner, managing DEIB integrations across a phased approach including building leadership alignment, establishing the business case for DEIB, creating a communications strategy, facilitating virtual trainings, establishing DEI Councils and ERGs and setting the framework for a sustainable DEI strategy.
Prior to her role in HR, Samantha worked in financial reporting functions at Citigroup and Prudential Financial. She transitioned to Human Resources in 2017 as an HR Analyst at KIND Snacks creating reporting metrics to assist HR leaders with decisions regarding succession planning and organizational structure. Through researching benchmark and organizational data, she provided insightful and meaningful proposals on company policy changes.
Samantha holds an MBA from Rutgers University with a concentration in Strategy + Leadership and received her B.S. degree in Accounting from Rutgers University. She earned a Strategic Human Resources Leadership certificate from Cornell University ILR and is a member of the Society of Human Resources Management.
Is your HR team stretched to its limits?
We're the flexible resource that makes a lasting difference.
Contact Us