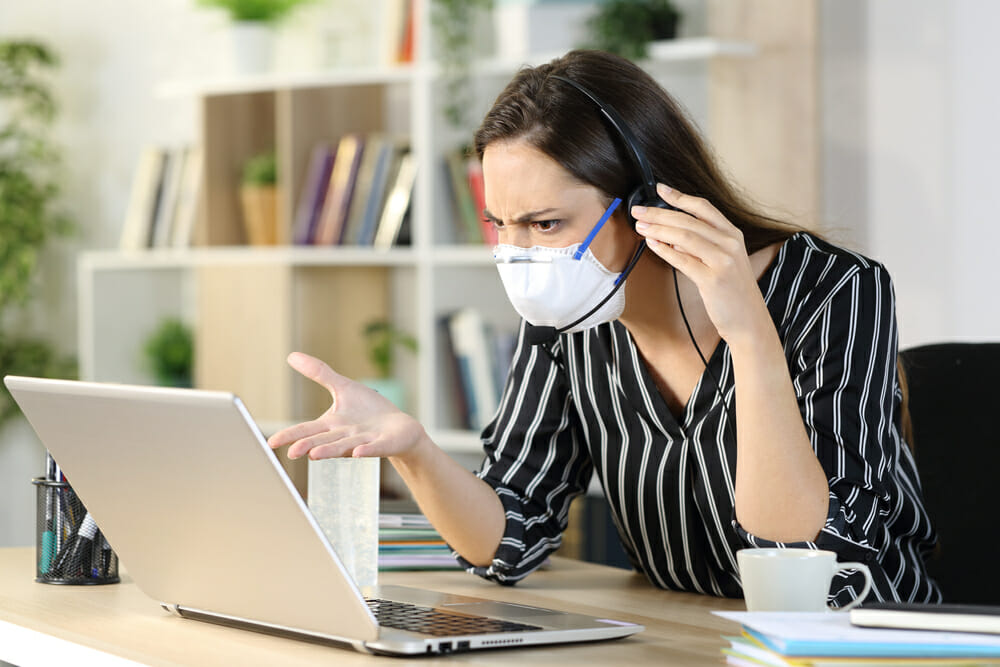 How Employers Can Navigate Election Politics at Work
OCT 26, 2020
How Employers Can Navigate Election Politics at Work
If your workplace is feeling like a tense zone of passionately contested election politics these days, you're not alone. As we're seeing, Election Day did not mean the end of polarizing politics seeping into just about every facet of our lives—including the workplace. 
This year's election may be more drawn out than any of us have ever experienced. No matter the outcome, however, a major divide will remain—and people are feeling a very real sense of loss, or even fear. At the same time, a huge segment of the population is simply tired of hearing about politics everywhere they turn. They want work to be a safe space away from the division of election politics.  
So, how can employers navigate election politics at work and post-election mental health implications? 
First, let's look at the cautionary tale of Coinbase. The cryptocurrency exchange company went to one extreme and banned talk of politics, including social activism, altogether. In what CEO Brian Armstrong refers to as a policy of "political neutrality," he explains in a Medium post, "We don't engage here when issues are unrelated to our core mission, because we believe impact only comes with focus." 
But widespread pushback from within the ranks of Coinbase, colleagues in tech, and wider leadership circles are proving that decision is coming across as tone-deaf, at best. Armstrong offered severance packages to anyone who wanted to go elsewhere and at least 5% of employees have already taken him up on the offer. 
On the surface, Coinbase is helping to promote the wishes of the majority of Americans, to keep discussions of politics out of the workplace. According to Axios, 70% of employees would support company wide policies to ban such discussions at work, and CNBC reported that 47% of people are feeling their productivity at work slide due to election talk. At the same time, 61% expect companies to publicly speak out against injustice. It's a tough balance. 
It isn't as simple as saying, "No election talk allowed." Social justice has become a corporate issue, too. Since social justice stands as one of the single most pressing issues for many Americans—and a deciding factor in their voting preferences—it is increasingly difficult to divide the two.  
Goodyear found themselves in hot water with conservatives this summer when they banned employees from wearing clothes that display President Trump's slogan Make America Great Again as well as Blue Lives Matter, while expressly allowing the display of Black Lives Matter. But Goodyear Spokesperson Melissa Monaco explains that the policy is consistent with the company's values and commitment to racial equality. "We do allow our associates to express their support on racial injustice and other equity issues but ask that they refrain from workplace expressions, verbal or otherwise, in support of political campaigning for any candidate or political party as well as other similar forms of advocacy that fall outside the scope of equity issues," she says. 
As employers balance building a culture consistent with their values and limiting distracting or offensive political discussions in the office (including Slack channels), here are four actionable steps to help companies navigate election talk at work:
1. Establish policies around political expression in the workplace
When establishing policies around political expression, companies need to lead with their values and be consistent. Policies should be clear on what is prohibited at work, (e.g. pins, T-shirts, or posters that endorse a specific candidate) as well as what is permissible. Flexible policies that focus on scenarios most likely to cause distraction or be interpreted as disrespectful are more practical than trying to outline an exhaustive list of approved and prohibited practices. 
2. Promote Diversity Equity + Inclusion 
A strong infrastructure that already cultivates DEI will serve companies well in divisive situations like an election. The key is to make sure no one is othered based on their political beliefs. This is a good time to revisit policies on harassment or bullying and offer a refresher training to employees.
3. Endorse voting, not candidates
Election talk doesn't have to be about the candidates. Many companies are getting involved by advocating for their employees to get out and vote, staying safely away from mentioning either candidate or party. Under Armour created a multi-audience campaign intended to encourage both employees and customers to get informed and vote this season. In the athletic retailer's "Run to Vote" campaign, President & CEO Patrik Frisk says "We are here to empower those who strive for more. I want to make sure people are provided every opportunity to have their opinion heard and exercise it in an informed way. It's as simple as that." 
4. Recognize the impact on mental health
Fear, disappointment, sadness, and anxiety brought on by the election—no matter the outcome—are just as real and deserving of employer support as stress brought on by working during the pandemic or other underlying mental health stressors that are at an all-time high. We can create safe space to talk about how employees are feeling about the election or outcome, without engaging in political debate. This is where managers need to lead by example—showing that they are willing to share their feelings, while processing the political implications in private.  
Contentious politics are not going to disappear on November 4th. And employees are not going to be able to compartmentalize the negative feelings and stress they experience following the election. That doesn't mean the workplace is destined to serve as the political Town Square, though. It's up to employers to take the lead on establishing policies, setting examples, and cultivating a company culture that fits with their values to promote an inclusive and healthy workplace.