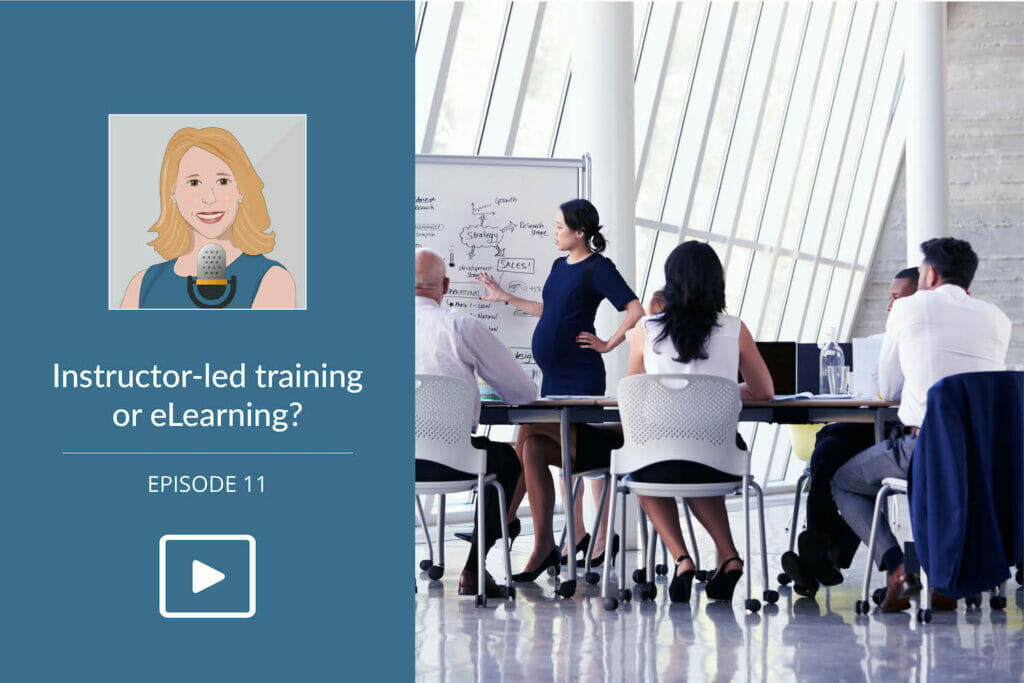 Instructor-led training or eLearning? Yes, please.
MAY 17, 2019
Much has been written about the relative merits of eLearning v. Instructor-led Training (ILT), with some suggesting ILT may soon become a thing of the past. 2018 marked the greatest demand for HR training that I can personally remember, with significant emphasis on diversity, inclusion and addressing sexual harassment in the workplace. Over the past 18 months, I have worked with dozens of companies to swiftly train teams on policies, laws, expectations and ultimately behavior change – from executive directors to executive assistants. Through this process, I have developed a new perspective on the debate between eLearning and Instructor-led Training. The short answer is yes, all of the above.
I encourage organizations to look at the way young adults (Gen Z) are learning at the university level using a hybrid model. Some classes remain in person, others may be done on Zoom while sitting in a dorm room. While I am encouraged by technology's contribution to learning, great gains can still be made by the power of human connection and the opportunity to learn from one another. The most important consideration is your ultimate learning objective – what are we trying to teach? When we sit down with Inspire clients to create training solutions, we always begin with the end in mind and use the following guidelines to determine the right components:
Objective 1: Inform
In some cases, our main objective is informing. Perhaps we need to train employees on new information and a set of unambiguous decisions. For example, your goal is to train hiring managers about the recruiting firms to use for different types of open positions and the parameters for engaging with them. We can easily use online content and an interactive decision tool. A short animated presentation with some links to additional resources would likely be less costly and more effective than trying to convey this during an in-person session.
Objective 2: Build technical skills
When training needs are focused primarily on technical skill building (i.e., programming languages, data analytics, finance, design), eLearning is the obvious choice. Technology has made it possible to access high-quality content on a wide range of business courses. Also known as MOOCs, or Massive Open Online Courses, these opportunities are free and available to anyone. Some organizations have chosen to use a similar, fee-for-service version of MOOCs (i.e., skillsoft or Lynda), which allows for greater control over course offerings and the ability to maintain consistency across an organization. While this might seem like a pure online play, I would argue there is also an important human element to consider. Perhaps you have an HR Business Partner who is increasingly being asked to provide data and empirical analysis to the division president. Pointing the HRBP to a MOOC on people analytics is a quick conversation, a relatively small time commitment and a great growth opportunity that also serves the business. From my perspective, these vast learning resources could become a powerful part of a manager's arsenal of employee development tools.
Objective 3: Develop soft skills
When training involves ambiguity and judgment-based decision making, a blended approach is the way to go. For example, your goal is to train leaders delivering performance feedback. Some time will definitely be spent learning the basics (i.e., what is the company's performance management calendar, forms and examples of high-quality performance documentation, etc.). To make the best use of precious ILT time, I highly encourage organizations to borrow a concept from education and academia, "flipped learning." Using technology, students learn fundamentals for homework, reserving classroom time for discussion and practice. In the case of delivering performance feedback, eLearning can effectively provide background information and introduce participants to the basic terms and approaches. With the fundamentals established, the group can get together and maximize the benefits of having a live facilitator. For example, participants can practice and share ways to phrase constructive criticism. Facilitators might model what leaders should do when a conversation goes bad, and then let the group take turns role playing challenging scenarios. There is no substitute for the honest conversation that a live instructor can facilitate by pushing participants out of their comfort zone and challenging their thinking in real time. And since "sitting is the new smoking," let's get people out of their seats and working together.
Objective 4: Inspire behavior change
When a training initiative is ultimately about behavior change, there is no substitute for humans getting together and talking. For example, your training goal is to deliver high impact, anti-sexual harassment training in a culture that has a history of misogyny and high-profile harassment cases. To get real results with behavior change, we recommend Instructor-led training, surrounded by two important bookends. On the front end, an eLearning module to inform participants of the basics (in this case, sexual harassment laws, internal policies, resources, etc). Between the bookends, a robust, live training session. Get people from different departments and different backgrounds in the same room. Observe the critically important nonverbal communication among the participants. Whose arms are folded? Who is not making eye contact? Go off script and share an anecdote. Give participants role-playing scenarios that often catch people off guard. Practice responses and language that might not be second nature. A good facilitator will find an opportunity to not just share information, but create an experience that will shape participants' actions going forward, establish new relationships and challenge old thinking. And finally, the other bookend – reinforcement. Participants may be asked to follow up with one another on related work or spontaneously be asked how they would respond to mock scenarios by using what they learned. While eLearning plays a role, the human element is the primary factor when it comes to driving new behavior.
As we continue to evolve our thinking about learning and professional development, I would not rule out any particular approach. Creating an either/or debate between eLearning and ILT oversimplifies the nature of learning. In most cases, a hybrid model will yield the best results. If you are ready to explore the right training model for your next learning initiative, contact me at jaime@inspirehumanresources.com or (917) 612-8571.