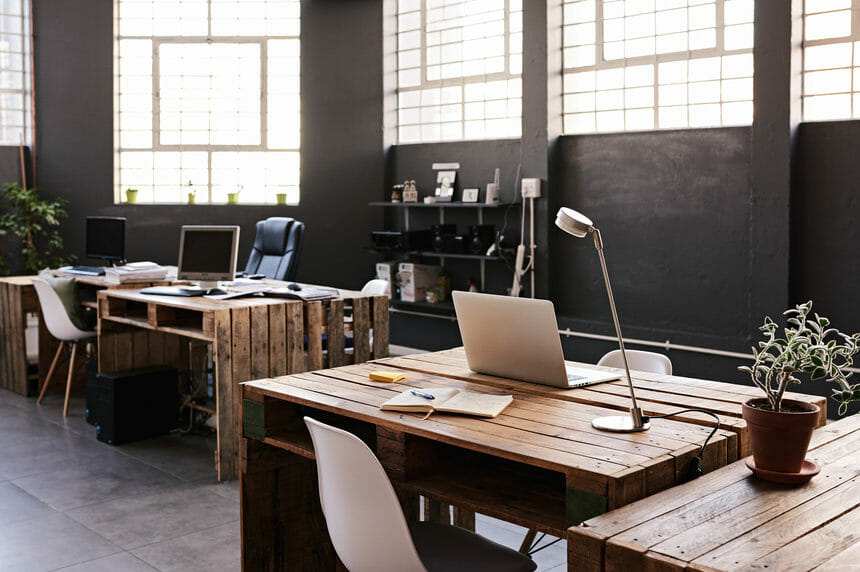 Moving Forward, Not Backward From COVID-19
MAY 04, 2020
Reopening the workplace dominates today's conversations. It makes sense—where we are now is uncomfortable in the U.S. It's painful and it's harming the bottom line.
Reports on the best and brightest ideas coming from Europe and China, like this report from McKinsey and this analysis from The New York Times, share learnings for an eventual return that include:
redesigning work schedules so employees return in smaller groups, or just designated days
spacing out desks 6 feet apart, and only allowing small groups in conference rooms
installing hands-free doors, soap pumps, and hand sanitizer dispensers
placing distance markers on the floor, and posting signs and visual cues to prompt social distancing
redesigning existing workstations with plexiglass in between
replacing common surfaces with materials like copper, that are less hospitable to germs
designing outdoor gathering spaces to allow collaboration without viral transmission
converting windows so they can open, for freer airflow
reconfiguring ventilation systems to flow air from the ceiling down, rather than the floor up
relocating offices to buildings or areas with better air circulation
providing masks and gloves
hiring additional cleaning staff
HR and leaders are asking important questions ranging from how do we redesign our open floor plan, to how do we ensure that public transportation to the office is safe, to can we still even have a water cooler? In addition to these critical questions, I encourage our community to ask the most important one:
How do we innovate forward, instead of looking backward as we design our blueprint?
Moving forward, not backward from COVID-19
We encourage HR leaders to re-think ways knowledge workers (those that can get their work done with a computer) can continue to work remotely until more science is certain. And even then, or under the best circumstances, we recommend agile work arrangements to help organizations prepare for the future of work.
The New York Times science and health reporter Donald G. McNeil, Jr. shared his concerns that the business community may be looking at an overly optimistic timeline for returning to work on a recent NYT podcast. Given that it typically takes 12 to 18 months to develop a vaccine, McNeil states, "I'm talking to medical historians and making predictions based on data. And so I think a lot of people think that by May or June or August, we're going to return to something like normalcy. But all the experts I talk to say, no, that's a fantasy."
Other experts say several conditions must be met before we can safely return to work, including:
Two types of tests that reveal: (1) active virus circulation that determines who is carrying and can spread the virus and (2) virus antibodies, an indication that a person has been infected at some time in the past.
Fewer new cases emerging in the region.
A local healthcare system with enough capacity to manage both COVID and traditional needs.
In the absence of solutions to these three challenges, forward-thinking organizations are beginning to slow down their return plans. We are talking with companies that are setting September to December 2020 as their earliest targeted date to reopen their offices. Some even plan to move to a hybrid mix of office and remote work environment permanently.
JP Morgan Chase CEO Jaime Dimon set expectations for a gradual and conditional return to work in an April 27 letter to shareholders. "Initially, we need a buffer period of days or weeks for people to be tested, and then for those who test negative for the virus, we need to discover whether virus antibodies appear through serology testing."
Zillow is allowing employees to work from home at least through 2020, but expects to make permanent changes that incorporate a more hybrid model of home and office work. Initially a bit skeptical about the possibility of working as effectively from home, Zillow CEO Rich Barton now says, "My personal opinions about WFH have been turned upside down over the past 2 months."
With so much still unknown about COVID-19—from the diversity of presenting symptoms, to the timeline for a vaccine, to whether or not a person can be infected more than once—I would love for HR and business leaders to widen the aperture on our future planning.
The strongest companies are pouring equal energy into redesigning the future of work. They're adjusting for goals beyond Q1-2021, recognizing the workplace of tomorrow looks meaningfully different than it does today. They are:
Deepening connections with remote teams. The best leaders are constantly honing their communication skills, providing their people with the tools they need to adapt to their remote environment, being human with their teams, and building trust through an honest and bidirectional feedback loop.
Preparing to scale up (or down) quickly. Incorporating agile talent means an organization can fill in skills gaps and address challenges immediately. Consider the advantage of those companies who brought in additional tech support in early March to bring their team up to speed on tools like Zoom and Trello.
Adapting to a changing environment. Whether it's shifting the team to working from home, adapting to optimize the power of AI, or even modernizing our cultures in the wake of #MeToo, we can't always predict what's next. But a strong HR presence at the top that will question decisions and offer innovative ideas to shift an organization from reactive to proactive.
Putting people first. Flexible family and sick leave policies can't be reserved for a pandemic. Recognizing that our people also juggle a robust life outside of work and doing more than accepting it—actually championing it—has become a necessity for retaining top talent.
As we all yearn to put the COVID crisis behind us—and soberingly extend that timeline more each day—let's think of how we can put our energy into redesigning the way we work to propel our companies into the future.