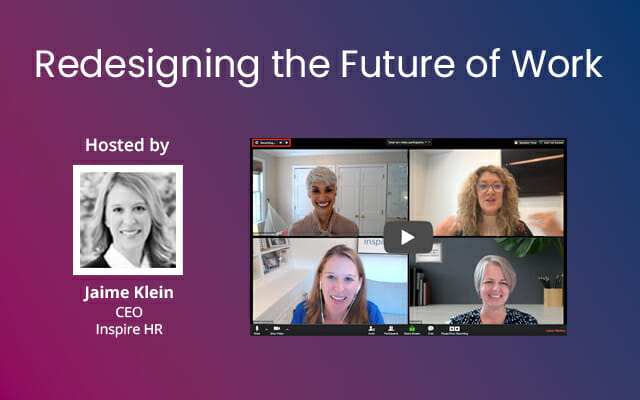 Hybrid Workplaces: From Compliance to Culture
SEP 29, 2021
Hybrid Workplaces: From Compliance to Culture
As return to office dates shift later—often into 2022—it has become clear that the #1 criteria for a return to office or hybrid work plan is flexibility.
But there's so much more, too: from pay differentials based on geography, challenges hybrid work causes for diversity, equity, inclusion + belonging, how employers can manage employees who refuse to receive a covid vaccine, and more.
Watch "Hybrid Workplaces: From Compliance to Culture" to hear from Kerrie Heslin, Employment Attorney and Partner, Nukk-Freeman & Cerra, PC, Sara Birmingham, Shutterstock Chief Human Resources Officer, and Camille Henderson Davis, Inspire Expert, DEIB.
Key takeaways
Recognize that there may be a loss of productivity when people begin working in the office again (compared to the multi-tasking that happens when working from home).
When evaluating changes in pay for remote workers compared to in-office workers, be careful to examine whether there may be an adverse affect on a protected group of individuals.
If you are unable to commit to a return to office date, commit to giving employees a certain amount of lead time (our panelists suggest at least 8 weeks).
Evaluate how your company culture has shifted informally and be deliberate in fostering what's been working and change what hasn't.
Meet our Panelists:
Kerrie Heslin, Employment Attorney and Partner, Nukk-Freeman & Cerra, PC
Kerrie Heslin is the Managing Partner at Nukk-Freeman & Cerra, PC where she specializes in litigation on behalf of employers of employment law matters including: discrimination harassment, whistleblowers, wage and hour, and benefits issues. Kerrie counsels business leaders and litigates matters involving workforce reductions, ERISA, COBRA, FMLA, FLSA, HIPAA, and labor law. Kerrie was named one of the "Top Lawyers in New Jersey" by New Jersey Super Lawyers magazine, and as one of the "Top 50 Women Lawyers" in the state for six years running and a "Woman of Professional Distinction" by the Executive Women of New Jersey.
Sara Birmingham, Chief Human Resources Officer, Shutterstock
Sara Birmingham is Chief Human Resources Officer at Shutterstock, where she is responsible for all aspects of the company's people strategy. Prior to Shutterstock, Sara served as the Global Head of HR for Reuters news business. During her nearly 20-year tenure at Thomson Reuters, Sara held a number of HR leadership roles within their Media, Legal, and IP & Science businesses. She was also a member of the Thomson Reuters People Leadership Team and served as Reuters Innovation Champion and Co-Executive Sponsor for the LGBTQ Employee Resource Group, Pride at Work.
Camille Henderson Davis, Inspire Expert, DEIB
Camille Henderson Davis is an Expert at Inspire Human Resources who specializes in Diversity, Equity, Inclusion + Belonging (DEIB). With a PhD in the History of Race and extensive experience in people strategy and HR leadership, Camille helps forward-thinking organizations design and evolve their company culture, improve their DEIB strategies, and retain exceptional people of all backgrounds. Camille has led HR at various pharmaceutical companies including Agios Pharmaceuticals and Genentech-Roche, in addition to serving as a DEIB consultant with companies including: Wegmans Food Markets, City of Hope Cancer Research Hospital, the University of Chicago, and the University of Dayton School of Law.