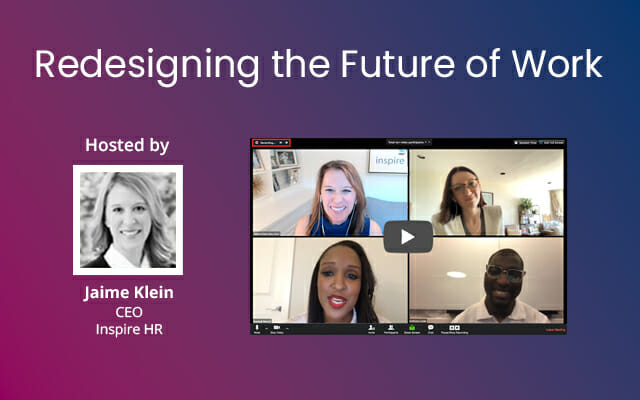 Reducing Bias in Hiring
MAY 30, 2021
Reducing Bias in Hiring
Recruiting for diversity is the top priority facing talent professionals and hiring managers today. Considering 67% of job seekers say diversity is a key factor when evaluating job offers, and a sense of belonging reduces turnover risk by up to 50%, DEIB plays a major role in talent acquisition. But, a diversified workforce doesn't just happen on its own.
In this session of Redesigning the Future of Work, Jaime Klein is joined by Rachell Morris, Head of Human Resources at TED, Anthony Louis, Recruiting Operations Manager at Beacon Talent, and Tiffany Dyba, Inspire Expert and Recruitment Specialist to share strategies and tactics, including:
Leading with the "why" when recruiting for diversity to avoid othering
Removing the search for "fit" in recruiting as it leads to sameness, instead looking for "culture add"
Committing to pay equity, by offering a consistent range to each candidate during salary negotiations, removing the onus from the candidate
 And so much more.
Meet our Panelists:
Rachell Morris, TED, Head of Human Resources
Rachell Morris is the Head of HR at TED, leading the HR and People strategy in support of spreading ideas that impact the world. She is a Cultural Competence leader, an IDI Qualified Administrator, and the Principal Investigator for TED's DEI Initiative. Rachell has 15+ years of experience in Human Resources and Organizational Development in Media and AEC (Architecture, Engineering and Construction).
Anthony Louis, Beacon Talent, Recruiting Operations Manager
Anthony Louis is a Recruiting Operations Manager at Beacon Talent. He has served as a consultant to countless successful startups ($100MM+ funding) and high-growth organizations, enabling executive teams and Founders to create equitable and robust hiring practices that scale. His experience cuts across B2B, B2C, and D2C, spanning a myriad of verticals including Product, Marketing, Customer Success, Engineering, Sales, Operations, and beyond.
Tiffany Dyba, Inspire Expert and Recruitment Specialist
Tiffany Dyba is an Inspire HR Expert who specializes in recruitment. Tiffany is experienced in volume recruitment across a variety of disciplines, as well as scaling new recruitment teams to optimize success. Tiffany's career includes leading recruitment and building a team of recruiters for Burberry, and retail recruitment across the Americas region for Tiffany & Co.